Social media is no longer thought of as a medium where users mindlessly scroll through, but it is known to provide experiences that change minds, habits and lifestyles. Instagram is the second most accessed network with over one billion monthly active users. They are known to browse for an average of 53 minutes per day, which is approximately seven hours per week.  In Sri Lanka, alone it is reported that 1.30 million potential users can be reached through IG adverts.
Link : https://www.hubspot.com/instagram-marketing
The biggest advantage that Instagram has over other social media platforms is that it is visually appealing. The better the images/videos, the more engagement you are able to achieve. Curating a unique strategy for your brand on IG, before entering the platform is important to keep your target audience engaged and to track your goals.
Let's look at the steps to build a Unique IG strategy for your brand:
Setting SMART goals for Instagram.
Selecting your target audience.
Conducting a competitor analysis.
Developing a content strategy and plan.
Nurturing a loyal customer base.
Setting SMART goals for Instagram
Setting goals creates a framework for brands to follow, it allows creativity to flow into value-added foreseen goals. A brand needs to find its purpose in being on any social media platform but each platform is different, so a brand should set goals that are;
Specific to the brand.
Measurable by KPI.
Achievable with the budgets set for the platform.
Realistic in what could be achieved on the platform.
Time-bound framework which changes with each period.
Your time, monetary investment and effort should be defined by your purpose and goals. The question you need to answer at this stage is, why are you on Instagram?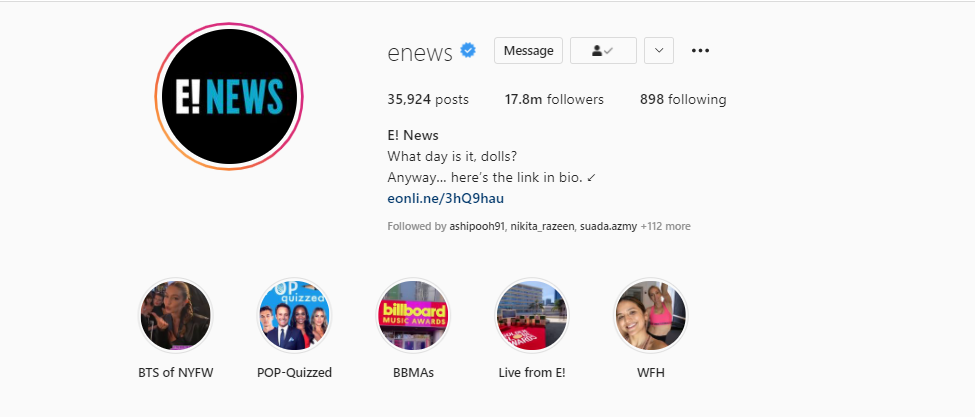 https://www.instagram.com/enews/
Take E News for example, a source of entertainment that promotes celebrities and their lifestyles. They have around 17.8M followers and are growing at a fast pace on Instagram. They could implement SMART goals, such as;
Specific – To be the most followed brand in the world.
Measurable – To gain 100M followers
Achievable – Based on the budgets that have been set for Instagram, questioning if the target is achievable.
Realistic – A budget big enough to achieve 100M followers should be available.
Time-bound – By the end of the year.
Selecting your target audience
Before a brand starts producing and posting content, finding its target audience is very important. This means finding the users that content is made for. Determining factors such as location, age bracket, gender, income and interest. To create content that users will love, brands should know who their ideal audience is. Instagram makes it convenient to establish a target audience based on certain demographics.
Eg:- If we conduct an audience analysis on Aldi, the international supermarket brand, their ideal audience would be mostly users in the age range of 25-34 (Around 33% of global IG users are found in this age group) in the 20 countries they are located in. These users are interested in grocery shopping, food inspiration, natural and organic food and other related topics.
Conducting a competitor analysis
A competitor analysis should be conducted after selecting the target audience. This step is important because brands need to know what their rivals are up to on Instagram. The best tool to conduct an overview analysis is fan page Karma. It shows competitor follower base, engagement rate and other important metrics. While this step is important before you launch your brand on Instagram, it is equally important to keep an eye out for what they're doing on the platform from time to time.
Conducting an analysis helps to benchmark each brands performance on the platform while also allowing brands to keep track of trends. There could be inspirational brands that help to identify which kind of content users are mostly engaging with. When conducting this analysis, a brand should identify which posts are most engaging, which hashtags are trending, the growth rate of the brand on Instagram and the frequency of posts/stories/live videos.
Link https://supermetrics.com/blog/instagram-competitor-analysis
Eg:- Some of Sainsbury's competitors are Walmart, Costco, Kroger and Woolworths. While all these competitors are food retailers in the global landscape, their Instagram strategies are different. Sainsbury has opted for food recipes and organic fresh food that indirectly promotes their brand while other competitors promote deals, discounts and campaigns.
https://www.instagram.com/sainsburys/
Developing a content strategy and plan
The next step is to develop a content strategy, which is where the following factors come into play
Frequency of posting – How many times a week a brand will post their content and when they will choose to post.
The theme of content – Depending on the target audience and their interest, a brand should develop a theme that will keep the followers engaged. The content theme could change monthly to keep it fresh and exciting.
Maintaining a specific style – On Instagram, a brand should have their own personality which brings out what they offer and who they are. Using relevant emojis and hashtags will keep reminding followers of what the brand is all about.
Customizing an engagement plan – Developing an engagement guideline for a brand will determine how they will engage with other brands, followers, and influencers.
Eg:- Keells posts at least three times a week with engaging stories every other day, with a theme surrounding food and recipes. They use specific hashtags such as #inspiredbykeells#athomewithkeells#keells. It maintains its aesthetic by having a consistent grid.
https://www.instagram.com/keells.sl/
Nurturing a loyal follower base
Brands should use unique and creative methods to keep followers engaged, which builds a community within the platform. Using a username that users can find easily and is catchy will help to gain followers while posting engaging interactive content that will keep them hooked on to the brand. Eg:- A great example would be the Sri Lankan cosmetics brand Luv Esence which engages with followers by promoting their products through well-known influencers. They have kept their potential customers hooked with new content and new product launches while also having exclusive offers just for followers. https://www.instagram.com/luvesence_/
Once these strategies are implemented, brands could convert their loyal followers into paying customers by using promotions, contests, new product launches, charities and other activities.
References
1. https://www.hubspot.com/instagram-marketing
2. https://sproutsocial.com/insights/instagram-marketing-strategy/
3. https://digitalbrandinginstitute.com/instagram-content-strategy/
Images taken from:- https://www.instagram.com/keells.sl/
Written by Ayindhie Alles, Account Manager, Enfection